Devtech M2M Premium – TMOV based SPD (Surge Protection Device)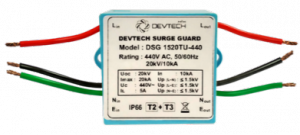 Devtech M2M Superior – TMOV based SPD (Surge Protection Device)
Devtech M2M ValueLine – TMOV based SPD (Surge Protection Device)
DEVTECH M2M launches next generation superior series SPDs (surge protection device)- TU model for the outdoor lighting market
This is one more feather in the cap for Devtech M2M R&D team which has come out with Import substitute product giving boast to "Make in India" efforts"
— Vinod Ramchandra Jadhav
PUNE, MAHARASHTRA, INDIA, July 27, 2018 /EINPresswire.com/ — PUNE, MAHARASHTRA, INDIA, July 25, 2018 –DEVTECH M2M produced a robust combined Type 2+3/Class II+III series type thermally protected SPDs, thermal & ultra MOV combination SPDs and ultra MOV based SPDs, which are designed to protect the sensitive electrical and electronic equipment's from damage by vulnerable high surges. Surge Guard is an ideal solution for maximum protection of outdoor lighting investments and can be used in any new or existing lighting solution, regardless of technology (LED/HID/Induction/Plasma etc.). Commenting on the development Chairman of the company , Vinod Ramchandra Jadhav said " This is one more feather in cap for Devtech M2M R&D team which has come out with Import substitute product giving boast to "Make in India" efforts".
Complete range of SPD solutions:
• Premium – TMOV based SPD – DSG1520-320/385/420/440 & DSG1510-320/385/420/440
Image of DSG1520-320/DSG1510-320
• Superior – TMOV + Ultra MOV combination based SPD – DSG1520TU-320/385/420/440 & DSG1510TU-320/385/420/440
Image of DSG1520TU-440/DSG1510TU-440
• Value Line SPD – Ultra MOV based SPD – DSG1520V-320/385/420/440/460, DSG1510V-320/385/420/440/460 and DSG1510V-320/385/420/440/460-L
Image of DSG1510V-440-L
Key Features
• Provides resistant to peak transients and multiple nominal surges of rating up to 20 kV/10 kA and 10kV/ 5KA.
• Provides maximum level of protection with single hit surge of rating up to 40 kV / 20 kA.
• Provides a superior protection level against high surges in accordance with EN/IEC61643-11:2011 and ANSI C 136.2:2015.
• Designed with specialized thermally embedded MOV technology to offer quick thermal response and increased protection level to the end devices.
Devtech M2M has obtained test reports from various 3rd party NABL approved Indian / EPA certified international labs after getting its DSG series SPDs successfully tested as per IEC61643-11:2011 & ANSI C 136.2:2015 at ECM, Italy; Bharat Test House, India & Yadav Labs, India.
For more information visit: http://devtechm2m.com/
Snehal Parikh
Devtech M2M Limited
+91 75077 80088
email us here

Source: EIN Presswire